Shopping Cart
Your Cart is Empty
There was an error with PayPal
Click here to try again
Thank you for your business!
You should be receiving an order confirmation from Paypal shortly.
Exit Shopping Cart
| | |
| --- | --- |
| Posted on July 29, 2013 at 5:56 PM | |
As published in the Savannah Morning News - 30 June 2013
Working with hoarders – oh my!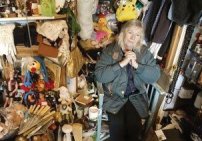 Hoarding has become a popular subject, written about in magazines and is even the focus of television reality shows.  This is the first of a two part series, as we explore hoarding from a real estate and move management perspective.   
It is often a source of embarrassment for the person who suffers from this disorder, and is always frustrating for the family members who spend their lives trying to "fix" the situation.  I have spent quite a bit of time studying the subject, and this psychological condition is very real, requiring professional treatment to effectively help individuals with hoarding disorders. 

In the past, hoarding was regarded as an obsessive compulsive disorder; however the medical community now recognizes the disease as one that has earned its own category.  I am not a doctor, so my intent is not to write from a medical point of view, but as a Realtor® and Move Manager.  From time to time, I do face the challenge of selling a hoarder's property and relocating them to another home.   

All the hoarders I have met are single.  This disease does not always manifest itself in obvious ways until the hoarder is older, so later in the marriage, spouses lose patience with it and cannot live in the condition they find themselves.  They divorce, and the children, feeling helpless to cure the problem, distance themselves as well.  It can be a very sad and lonely existence for some hoarders, but others can hide the disorder by keeping people from entering their homes.  They can simply go about their lives on the outside without the world knowing.  

My first point of contact is usually with the adult children, attorneys or even financial planners trying to help their client.   Most often the "client" is not the hoarder, but they are obviously the fragile part of the puzzle that must be considered.  

The move is initiated because of concerns for the hoarder's safety, and usually motivated by physical ailments that require assisted living.  With children, there is always frustration expressed on the other end of the phone, and embarrassment to have to bring an outsider into the mix.  It is difficult for them to expose the situation, but I assure them that in my profession of selling homes and moving people, there is very little I have not seen.  

When I am called to list a home for sale, the family secret is out, and the hoarder must expose their condition to me.  I become the obvious threat to their continued way of life, and the comfort they feel surrounded by their stuff.   Upon entering the property, I am not only assessing the home, but I am also considering the owner.  Removing a person from their home, throwing away all their "treasures", and simply expecting them to adjust, is not reasonable.  This remedy, as simple as it seems, can cause psychological damage.  Care must be taken to ease the concerns and fears that hoarders feel when threatened by this situation.  

There are many forms of hoarding, so when I enter a home I am also assessing the environment; is it safe for me and my crew to be there?  My job is to move the parent to a new location, then prepare the house for sale and get it sold. 

If the house is toxic, however, our safety and health become the primary concern.  Yes, I have turned down toxic jobs, and will continue to do so if we are in danger.  The only solution is to call in a company who covers themselves with protection against air born and physical hazards.  Once the house is cleaned out, we can perform our duty to get it sold. 

Fortunately, most of the hoarding situations I see do not require hazmat suited professionals, and we can handle the task.   So how do I approach these situations, and what are some of the solutions for successful moves with minimal collateral damage?  Next week I'll describe some of my experiences, and how they were handled.  

Next week in Moving Mom…Working with hoarders, Part II – Oh my!  Stay tuned!
Categories: Hoarding, Move Management, Organizing, Packing, Real Estate, Savannah Morning News, Seniors, Staging
/