Shopping Cart
Your Cart is Empty
There was an error with PayPal
Click here to try again
Thank you for your business!
You should be receiving an order confirmation from Paypal shortly.
Exit Shopping Cart
| | |
| --- | --- |
| Posted on July 29, 2013 at 6:15 PM | |
As published in the Savannah Morning News - 14 July 2013
Working with hoarders – oh my! Part III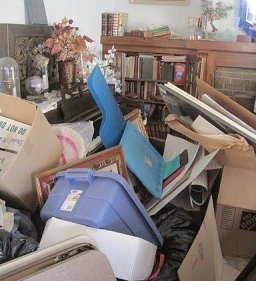 For the last two weeks, we have looked at various hoarding characteristics, levels of hoarding, and discussed the dilemma we find ourselves in when a hoarder must be moved to a downsized home or to assisted living. 
Most often, family members, estate attorneys or financial planners contact me to help them with cleaning out a home, moving the occupant and ultimately selling it.  Sometimes the elderly parent or occupant is still living there, but in dangerous and unsanitary surroundings.

I have seen every kind of hoarding situation:
too many papers/newpapers
vast "collections" of treasures
trash piled everywhere
water issues
broken pipes, roof leaks and toxic mold
flea, bug and rodent infestations
multiple animals left behind to fend for themselves
furniture stacked everywhere

My experience is that even if the hoarder is unsafe in their home and their health has deteriorated, their fear of losing their stuff overrides what is ultimately in their best interest:  moving.  It seems no amount of coaxing on the part of the family makes a difference, and although we can discuss the need to make it happen, the parent refuses to move.  It is often a catastrophic event that forces the move, such as an accident, a life threatening illness or death of the occupant.

There is no easy way to force a move, but when trying to help a hoarder agree to move to a safer environment, here are some ideas that have worked for me and other move managers:

Paper hoarders:  we move the person and the piles to the new residence and put it reasonably back the way we found it.  Piles can be labeled, photographed and organized so that the hoarder is again surrounded by the same piles that were moved.  If space in the new place is an issue and this is not possible, renting storage to hold the boxes is an alternative solution.  The occupant can be moved to assisted living and the parent has the peace of mind that their treasures are still there.  For reassurance, they can even visit the storage facility from time to time.  Seem drastic?  Maybe, but the psychological state of the parent must be considered when dealing with this disorder.

Collections of treasures:  I met with a woman who had dishes piled in every room.  It was not an unsafe situation, but there were hundreds of stacks of dishes, all in hues of blue, and very important to her.  Her daughter was desperate to move her to an assisted living community, and the new place would not fit the dishes.  We decided to take a sample of each place setting and combine them, then sell the rest.  Her mom was satisfied that she could still have the dishes she had chosen, but not have to take the full sets.  We showed her pictures of mix-and-match table settings in some of the latest magazines and that did the trick.  This can apply to other collections as well – keep a sampling and sell the rest.

Also, for legitimate collections, there are professionals who can assess their value, and sometimes selling the collections for a nice amount of money is attractive to a hoarder.

Furniture:  This depends on what we find.  If there are antiques, we call in antique specialists to determine the value and the best way to sell the pieces.  Consignment or auctions are usually the way to go, and again, the parent may agree to sell if the value is there.

Not antiques?  For high-end furniture, consignment or estate sales are an option.  If the furniture is not necessarily valuable, but usable, it may be consignable, or there are auction companies that will pick it up and sell it for you.  If selling it is possible, putting it in storage is an option.

Piles of trash:  Bag it up in black construction bags.  Simply put, if it is not toxic, move it to the next home.  If there is no room, consider storage.  I know this sounds crazy, but it can facilitate the move and keep the parent or client from having psychotic repercussions.   The goal is to make the move happen, right?

Animals:  This is where I draw the line.  Neglected animals are a serious situation.  The psychological well being of the occupant is secondary to an unsafe environment created by unsanitary conditions, affecting the health of the occupant and the animals.  The proper authorities should be contacted and the animals and occupant should be removed from the unhealthy house.  A Hazmat crew will need to clean out and treat/sterilize the home before it can be sold.   

In hoarding cases, project management is always involved, and once the occupant has moved out, preparing the house for sale is the next step.   The level of hoarding, and whether the property has been damaged in the process, will determine the amount of work to be done.  The process can be a daunting endeavor for the hoarder and the family, but it can be done.  Patience, compassion, and professional help will ensure a successful outcome, one step at a time.

Next week in Moving Mom…Ditch the lawn mower!  Is condo living for you?  Stay tuned!
Categories: Hoarding, Move Management, Organizing, Packing, Real Estate, Savannah Morning News, Seniors
/