Shopping Cart
Your Cart is Empty
There was an error with PayPal
Click here to try again
Thank you for your business!
You should be receiving an order confirmation from Paypal shortly.
Exit Shopping Cart
| | |
| --- | --- |
| Posted on May 2, 2013 at 7:40 AM | |
As published in the Savannah Morning News - 14 April 2013
Flood Insurance Part II– do you really need it?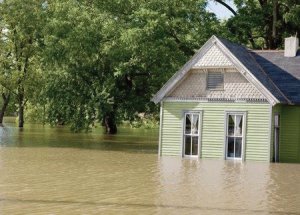 In response to last Sunday's article, I received some interesting calls and emails regarding the need for flood insurance, and whether your property may no longer be in a flood zone which requires flood insurance.  Some home owners are being billed yearly for flood insurance they are not
required
to have.  I felt it necessary to make some clarifications. 
Firstly, I believe all of us that live in the low country should consider flood insurance as part of our insurance package, especially those who live on an island.  I am not required to have it, but pay for it every year because I think it is just good, common sense.  The interesting thing about this is, your house may not need it, but the house next door requires it.  Also, you could have the highest house on the block and still be in a flood zone.  So, checking the latest flood map is the only way to determine whether you need it or not.  Then, it's a personal choice to buy flood insurance, if it is not required by a lender.  I have spoken to some people that "self insure", which is also a personal choice if you are a high risk taker and have the money to replace your home should a disaster occur.    
Secondly, the only real correction a friendly insurance agent made to my last article was in my statement, "If you don't need it, it's cheap.  If you do, it's expensive."  He explained that if you are in an x, c, or b zone, the cost is only $412 a year.  Again, the FEMA rates are set.  For homes in the a, ae, or ve zone, and built to FEMA code, and the property elevation is higher than others, the rate can be lower than some clients in the non-required zone. 
In short, it's complicated.
According to my source, FEMA does not have a mechanism in place to repay over-payments, but will eventually discover any shortages that will have to be paid.  No surprise there!  Companies that write flood policies for FEMA do, however, get notice of a change.  They should be looking at their clients' policies every time there is a Map revision, but that does not always happen.
What happens to the over-payments?  The answer is still up in the air.  FEMA, who retains flood premiums, fills a "pot" which is used to pay out claims.  It's a government bureaucracy, and I can imagine implementing change is mind boggling.  However, when there is an overage, there should be a way to catch it and send it back to the policy holder.  That is something for Congress to address.
Do the insurance agencies always catch it and act on it to reduce your premiums?  They should, but sometimes do not.  If they bill for it and send it in, then it is gone.  Can they keep the difference and send in the necessary payment?  I'm not sure.  This is all about ethics and doing the best for their clients.  You will always find those that are not ethical in every profession, and they do make a small amount of money writing flood policies.  That being said, this subject is not meant for you to doubt your insurance agent or company.  There are many reputable companies to choose from, and lots of great agents to work with, so do your checking and educate yourself about what you should have. 
Since I specialize in senior transitions and represent seniors selling their properties, generally, these post Depression babies pay their bills without question.  It is important that if they have been paying premiums for years, they check their policies to make sure they are paying the right amount for their required coverage. 
Another point of clarification:  Although I talked about the "new" map, the last map revision was in 2008.  I am told the base Flood Elevation went down by one foot and the relevant data changed accordingly.  Recently, when Realtors are selling a home, we are discovering the change in the flood insurance requirements.  I believe this is because the housing market was in the dumps in 2008, and we are just now seeing that market improve.  As buyers are buying homes and taking out insurance, the flood requirement discovery is made at that time.  The sellers are not happy that they have been paying higher rates than they needed to pay over the last 5 years.
Finally, surveyors are supposed to file any updated Flood Level Certifications with the county, but that is not always the case.  They have about 90% of these certificates on file.  You may call the Chatham County Department of Engineering for a Flood Zone Determination and/or an Elevation Certificate at (912) 652-7800.  You can also gather flood map information at
www.sagis.org
.
Next week in Moving Mom…Where did all the money go? Stay tuned!
Categories: Flood, flood insurance, Negotiating, Real Estate, Savannah Morning News, Seniors
/